Transflator Infrared System
Condor Transflator Infrared System©
PTCA Balloon Inflation Device
Light years ahead of the competition, the Condor Transflator is the first digital LED inflation device to operate without cords. The new 'built for the hand' pistol grip design gives comfortable easy operation. This, combined with the Transflator inflation knob, allows maximum control, quick inflations, and instant deflations.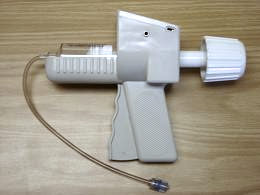 Transflator II Infrared System©
PTCA Balloon Inflation Device
The Transflator II PTCA Balloon Inflation System offers the distinct advantage of a large remote monitor which digitally displays both balloon inflation pressure values and inflation times, easily seen by all cath-lab personnel. The inflation syringe contains both an electronic pressure transducer and automatic timing mechanism. Inflation pressure and time values are transmitted from the syringe to the remote monitor by infrared technology… no cords needed.